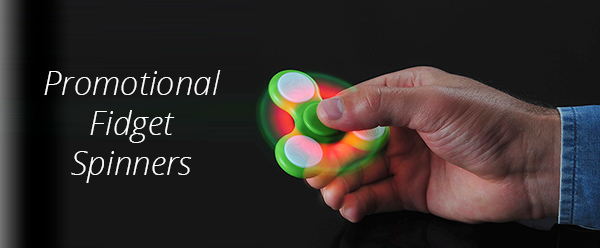 It's the hottest new toy around.  Both adults and kids will definitely have fun with this promotional piece.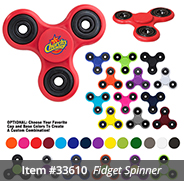 1. Item #33610 Fidget Spinner
Associate your brand with fun and lightheartedness. Choose your favorite cap and base colors to create a custom combo. This CPSIA-approved product has permanent markings affixed, identifying the manufacturer, date and place of manufacture, and a tracking code.  Full color, full bleed available. Bold imprints are recommended.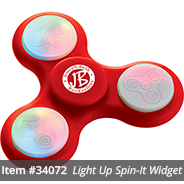 2. Item #34072 Light Up Spin-It Widget
Not to worry. Busy trade shows, events-packed conferences, heavy college course load, the vicissitudes of daily life, these days anything can trigger stress. This customizable widget to fidget with is the perfect giveaway to wave away anxiety or boredom.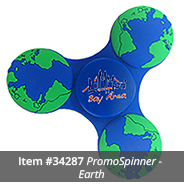 3. Item #34287 PromoSpinner – Earth
Put your logo on the face of the Earth with this little gadget that will provide fun and fidget-free distraction every time it's taken for a spin. Pocket-sized for convenient giveaway.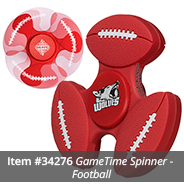 4. Item #34276 GameTime Spinner – Football
Fun to fidget with, a snap to give away, this football-themed spinner is one of the most popular new promotion gadgets in the field. What a fun way to score extra points with customers and prospects.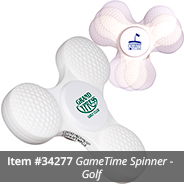 5. Item #34277 GameTime Spinner – Golf
Drive your branding home with a giveaway everyone will want to take away. Stress-relieving spinners are fun for everyone. This golf-themed version, with its large imprint area, will link prospects to you long after the event is over.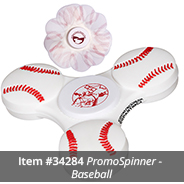 6. Item #34284 PromoSpinner – Baseball
Here's the pitch: personalized spinners are a home run for marketers. Pocket-sized and lightweight with a disproportionately large imprint area, these little gadgets are in a league of their own for providing comfort and relaxation when the pressure is on.
7. Item #34283 PromoSpinner – Basketball
Many adults, kids too, have become avid fans of gadgets that help them focus better by not fidgeting. This basketball-themed spinner can put your logo in the center of the action with its prominent imprint.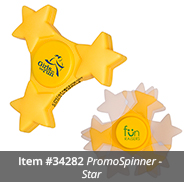 8. Item #34282 PromoSpinner – Star
Make your brand a star.  This spinner's supersized imprint area will focus attention on you while providing its users relief from fidgeting. Small wonder spinners have become such an effective promotion item. How about for you for your next big show?
9. Item #34278 PromoSpinner – House
The latest fad gadget, fidget spinners are a fun, interactive and beneficial way to promote your company by relieving stress and boredom. The oversized branding area will keep the focus on you!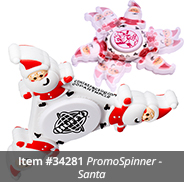 10. Item #34281 PromoSpinner – Santa
Ho ho ho. This spinner, with its oversized area for your logo, will add fun to your image while providing comfort in stressful situations like overly long business meetings or challenging classroom instruction. Also perfect as a stocking stuffer for the Santa set.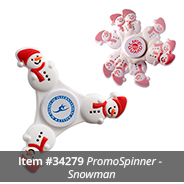 11. Item #34279 PromoSpinner – Snowman
Put you logo on this super spinner and take the stress off any tense or tedious situation. All the rage right now, these trendy giveaway gadgets are a great way to keep your brand at your prospects fingertips.