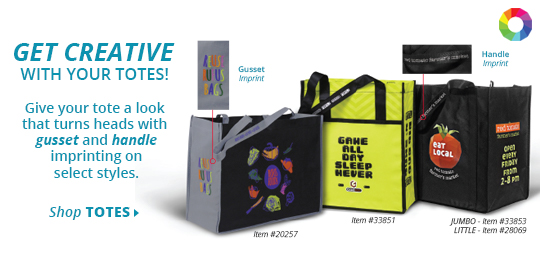 Promotional totes are one of the most popular promotional giveaways today. Check out these totes with gusset and handle imprinting and make sure you've got all sides covered!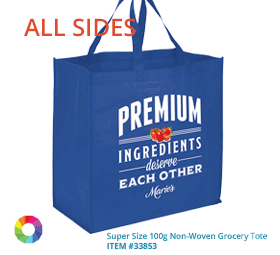 1. Super Size 100g Non-Woven Grocery Tote Item #33853
This grocery/shopper tote is a bit larger and heavier than most. It also has more advertising space including front, back, gussets and straps. For a super sized promotion, this is the perfect bag.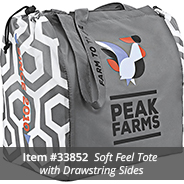 2. Soft Feel Tote with Drawstring Sides Item #33852
Looking for a bag with a new shape and feel? Make a stylish statement when you put your logo on this striking new bag. It holds a surprising amount in a compact shape.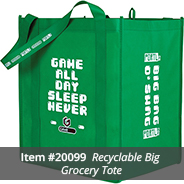 3. Recyclable Big Grocery Tote Item #20099
This bag has an open main compartment with a 10″ gusset and supportive bottom board. It is a smart alternative to throw-away bags. Its reinforced binding on edges makes it reusable for approximately 3 years and can hold up to 30 pounds. This bag is eco-friendly and is made with less than 10% recycled content.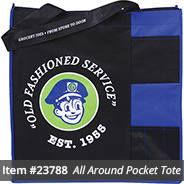 4. All Around Pocket Tote Item #23788
Whether you give these out at a trade show, convention or meeting, everyone will love these handy totes with outside pockets for their pens, phones, lists and business cards. Take advantage of the handle and gusset imprint areas for added advertising impact.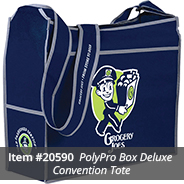 5. PolyPro Box Deluxe Convention Tote Item #20590
This tote has a single carry strap, reinforced with stitching. It can adjust to 21″ drop height. It has side pockets, pen sleeves, business card holder, and a 3-1/2″ x 5-1/2″ ID window. Additionally, it is lightweight, durable, fire resistant, air permeable, and hand washable.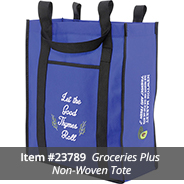 6. Groceries Plus Non-Woven Tote Item #23789
Use if for groceries or other large items. No more wasted advertising space. Please request a quote for our new gusset imprinting to make room for more messaging. Plan ahead, because gusset imprinting is not available for one day service. You'll need at least a week for production.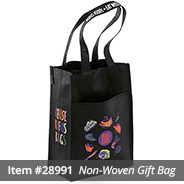 7. Non-Woven Gift Bag Item #28991
Good things come in small packages and this cute tote is no exception. These may be small and easy to carry, but nevertheless can convey more than four different messages.