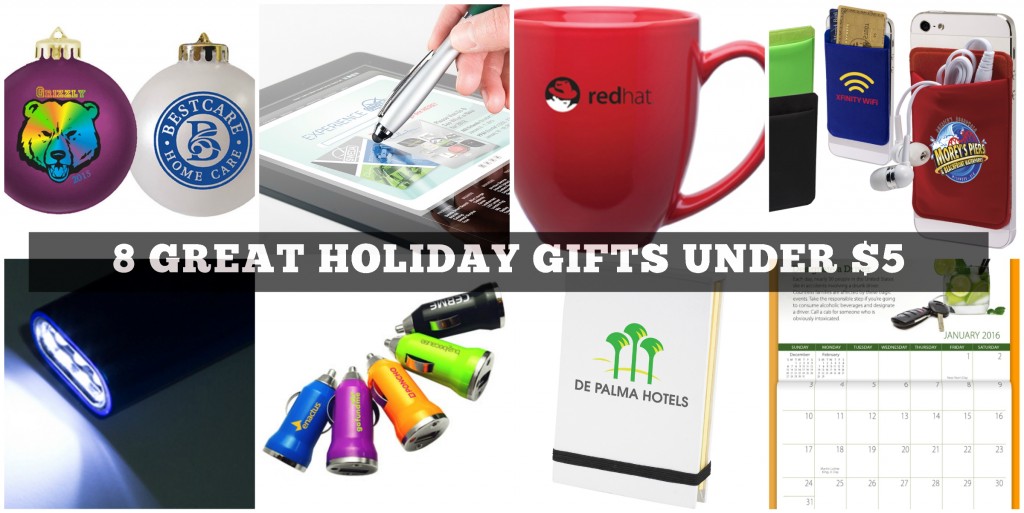 For budgets under $5, make a big impression with these popular products.
If you're wondering what you can give out to express holiday good wishes to your clientele, here are some of our most successful ones.  They are useful, cost effective and attractive and most will remain to be seen for years to come as a positive reminder of your organization.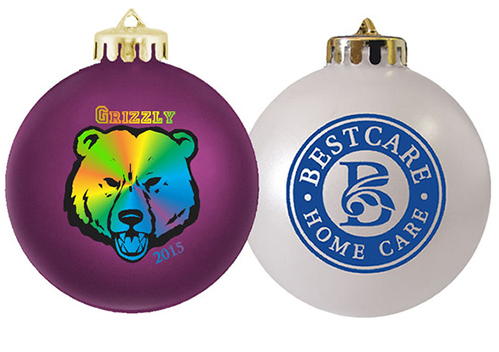 1. Item # 18456 3 1/4″ Ornament Ball – Shatterproof
AS LOW AS $2.24!
A lasting holiday gift that will enhance any festive tree. Economically priced, satin finished, durable, shatterproof ornaments are treasured mementos that will carry your message for years to come. Item includes gold braided hanging string and is individually packaged in a clear plastic presentation box.
 See more Home Gifts and Accessories >>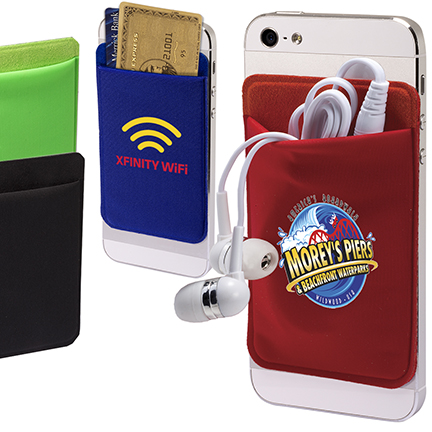 2. Item # 27015 Mobile Device Lycra Pocket
AS LOW AS $1.79!
This award winning Lycra pocket will be a winner for a multitude of different promotions. Everyone has a need to carry credit cards, business cards, ID cards, pocket change and keys- this accessory holds all of those important items in one compact, convenient place. This material holds more than the silicone version. It has a removable, non-residue polyurethane adhesive back. It is re-attachable and can be used as a screen cleaner too.
See more Smartphone Accessories >>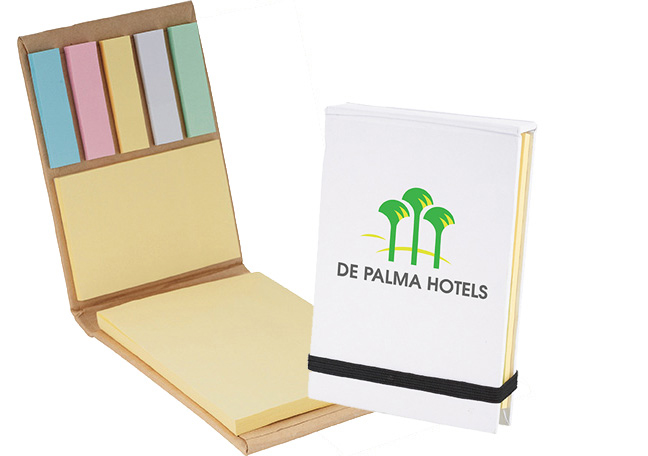 3. Item # 31547 Hardcover Sticky Notes Booklet
AS LOW AS $.91!
Ideal for organizing addicts, students, and lawyers, these booklets are filled with sticky notes, pads, and flags. Utilize these paper accessories to reference important passages and find integral passages. Hard cover jotter-style booklet includes 25 sheets of sticky flags in 5 colors, 25-page 3″ x 2″ yellow sticky memo pad and 50-page 4″ x 3″ yellow sticky memo pad with elastic closure. This item is perfect for organizing documents, projects and holiday parties.
 See more Journals and Jotters >>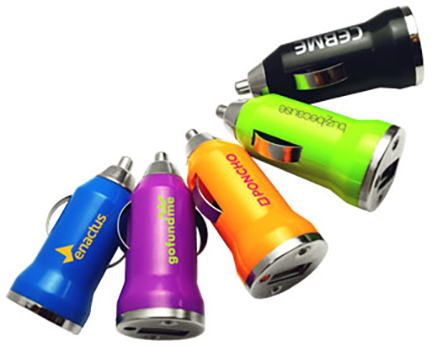 4. Item # 30769 500 mA USB Car Charger
AS LOW AS $1.55!
Juicing up while on the road? No problem.
Transform any car's interior space into a charging hub with this USB car charger. Complete with a USB port and 5V/500mA output, plug in any charging cable to make this compatible with any mobile device. Perfect for charging smart phones during travel.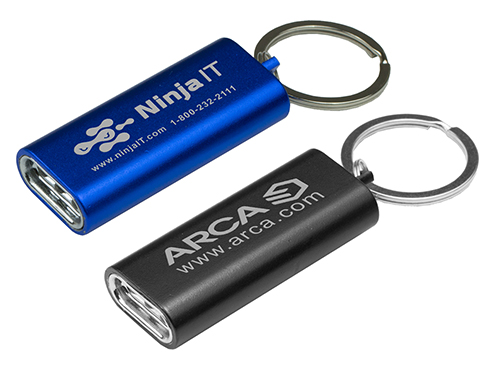 5. Item # 28698 3 LED Aluminum Keychain
AS LOW AS $2.05!
Shine a light on your company with this powerful LED flashlight! This compact, sleek, and slim LED flashlight crafted from high-grade aluminum packs a powerful punch despite its small size. Includes easy on/off button and three individual bulbs create a luminous beam, while a key ring attachment ensures you will take it everywhere you go. Gift box with batteries included.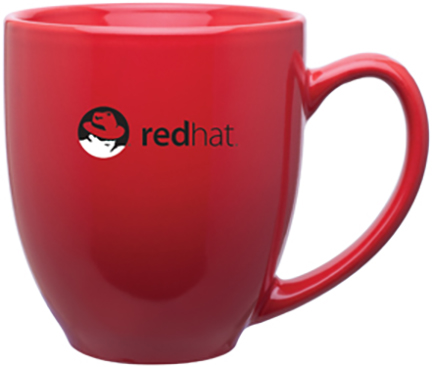 6. Item # 26630 Two Tone 15 oz. Mug
AS LOW AS $3.80!
Take the time out of a busy morning to sit down and enjoy the morning and get a great start to your day. It's not rare for your customers to feel more at ease and energized after sitting down with these 15 ounce ceramic mugs. Or that could just be the caffeine. These mugs will make a morning person out of everyone. Item includes a side grip handle. Hand wash recommended. Microwave safe with non-metallic print.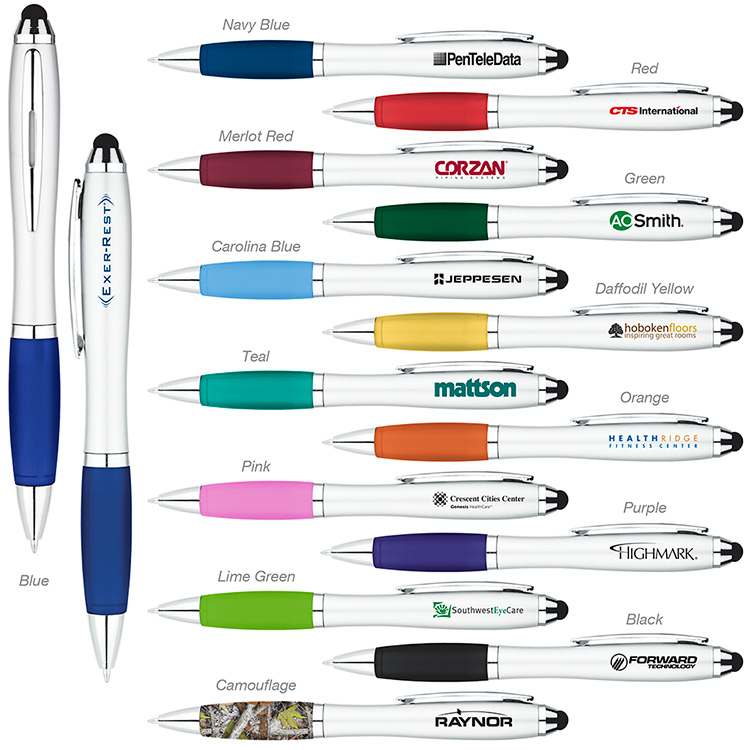 7. Item # 23893 Curvaceous Ballpoint Stylus
AS LOW AS $.60!
The twist action pen, soft stylus and comfort grip make this an excellent choice for your corporate pens. Why give out a pen with only one function, when you can give these attention-getting technology gifts? 14 silver combos with bright color rubberized grips includes black ink and soft rubber tip stylus.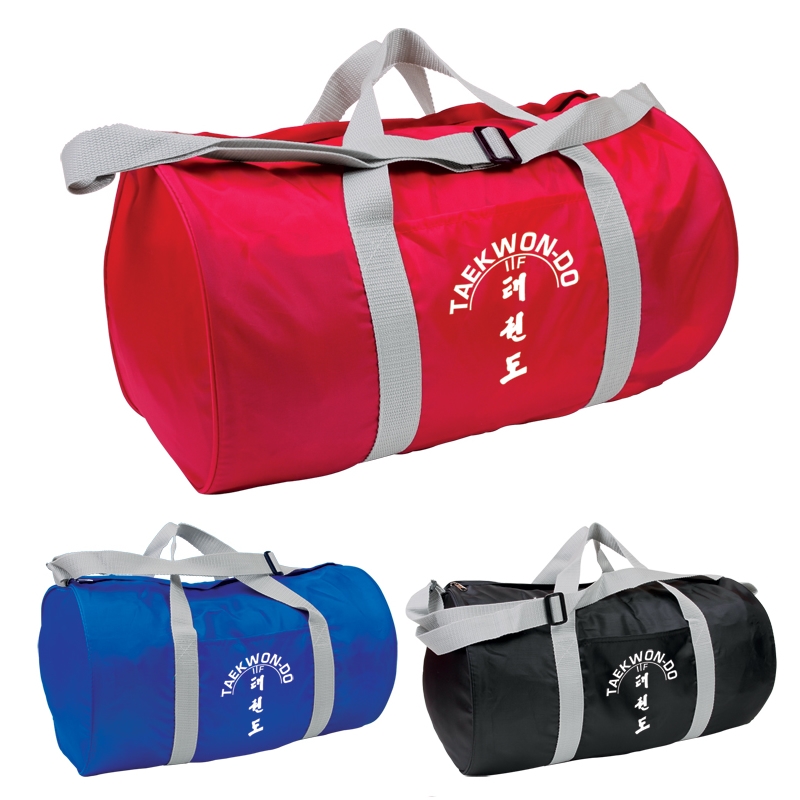 8. Item # 29520 Economy Barrel Duffel
AS LOW AS $3.97!
Boasting a retail-quality look at a budget price, this duffel is a supreme value. Its roomy interior can accommodate clothing, shoes, toiletries, and other travel essentials.