By Cailyn Vogel
The idea behind paid exposure is simple- sell imprinted items to promote your company or brand. While most people equate promotional with freebies, gifts and giveaways aren't your only promotional marketing options. Paid merchandise has some serious perks: not only does it subsidize your marketing costs, but also gives you the opportunity to make over your corporate image. Starbucks and other big name coffee franchises have essentially mastered this concept; consumers are willing to dish out cash in exchange for branded tumblers, t-shirts, and mugs.
Now is the perfect time to craft your own merchandise-based campaign: we've outlined three essential tips (with visual examples from an industry giant) to help you get started.
1. Ditch your company's slogan 
As the old saying goes, a picture is worth a thousand words. In the instance of text, less is more- slogans and taglines tend to clutter design. If you're able to make a visual impact with your logo, we promise you won't need the extra text to get your message across.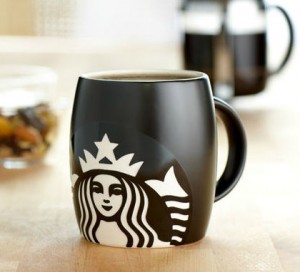 2.Add accent images and supplementary designs 
Here's where you get to be creative. By adding supplementary design, such as the florals in the tumbler below, you're able to reorient your logo (and your brand). Remember to choose design elements that appeal to your target demographic.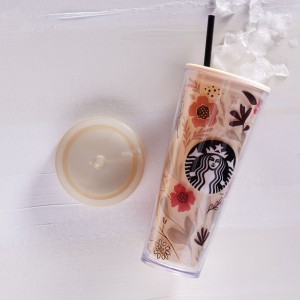 3. Invest in retail-look products 
If your customers are paying for merchandise, your product needs retail finishes. As mentioned in our previous post, an item's perceived value is extremely important to its marketability. The brushed stainless steel exterior of this mug exudes luxury, equating your brand with an upscale product and seamless user experience.