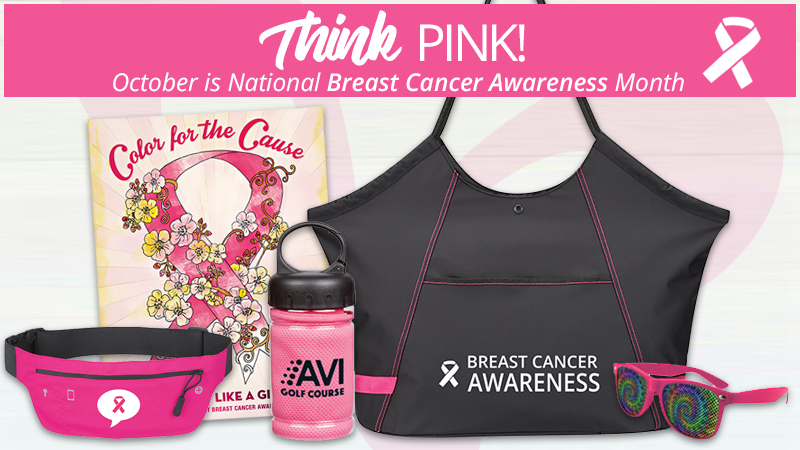 Show your customers & employees your company's support of breast cancer awareness with these Pink promotional products.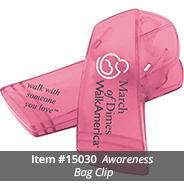 1. Item #15030 Awareness Bag Clip
Promote your company while supporting a worthy cause with the Awareness promotional Bag Clip. Magnetic backing available for displaying on appliances.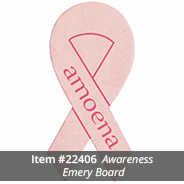 2. Item #22406 Awareness Emery Board
Ribbon-shaped emery board will increase awareness and features attractive European emery paper which is laminated to wood veneer. A great giveaway at any event.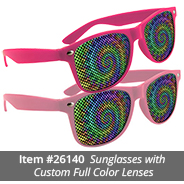 3. Item #26140 Sunglasses with Custom Full Color Lenses
Seeing is believing! No one will be able to take their eyes off these kaleidoscopic-like sunglasses which means your logo will always be stage center. A great one-size-fits-all giveaway!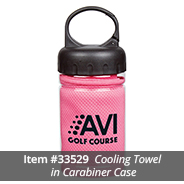 4. Item #33529 Cooling Towel In Carabiner Case
When the weather warms or the activity heats up, this quick-absorbing- quick-drying towel is just the ticket. The built-in carabiner is the perfect caddy. What a refreshing way to promote your organization—especially a golf course, tennis camp or athletic association.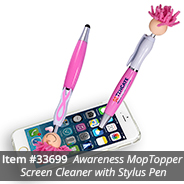 5. Item #33699 Awareness MopTopper Screen Cleaner with Stylus Pen
Put your brand in the pink. This Awareness screen cleaner-stylus pen is priced for mass distribution, designed to bring a smile every time. A great way for any company or organization to show its support for an important cause.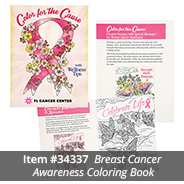 6. Item #34337 Breast Cancer Awareness Coloring Book
Breast cancer treatment often involves a lot of waiting. This custom coloring book is a pleasurable way to pass the time while it conveys inspiring messages, wellness tips and other helpful information. Good item for government offices, hospitals, clinics and more.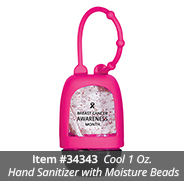 7. Item #34343 Cool 1 Oz. Hand Sanitizer with Moisture Beads
Rally support for a good cause and express your company's helping hand with this lightly scented hand sanitizer with added moisture. Perfect promotional item for sponsors of money raising walks for the cure.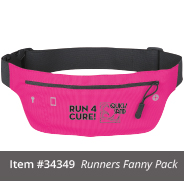 8. Item #34349 Runners Fanny Pack
Get breast cancer awareness off and running with this practical fanny pack. Adjustable to fit most wearers, it features inner and outer pockets plus a built in pocket to store ear buds. Perfect for walks, runs and many other events.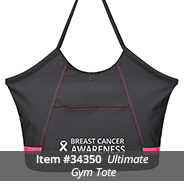 9. Item #34350 Ultimate Gym Tote
To their health! This awareness-building fitness bag has pockets in all the right places, sturdy rope handles and elastic loops for a gym mat or towel.  Great choice for health clubs, spas, yoga studios and more.